Children's Brain Imaging Data Bank Could Become a Web Tool for Doctors
01/09/2014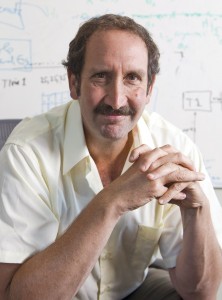 Research by Dr. Michael Miller, Herschel and Ruth Seder Professor of Biomedical Engineering at Johns Hopkins, Director of the university's Center for Imaging Science, and core faculty member in the Institute for Computational Medicine, to create a pediatric image data bank was featured today in a Johns Hopkins Press release.
When an MRI scan uncovers an unusual architecture or shape in a child's brain, it's cause for concern: The malformation may be a sign of disease. But deciding whether that odd-looking anatomy is worrisome or harmless can be difficult. To help doctors reach the right decision, Johns Hopkins researchers are building a detailed digital library of MRI scans collected from children with normal and abnormal brains. The goal, the researchers say, is to give physicians a Google-like search system that will enhance the way they diagnose and treat young patients with brain disorders.
This cloud-computing project, being developed by a team of engineers and radiologists, should allow physicians to access thousands of pediatric scans to look for some that resemble their own patient's image. The project is supported by a three-year $600,000 grant from the National Institutes of Health.
"We're creating a pediatric brain data bank that will let doctors look at MRI brain scans of children who have already been diagnosed with illnesses like epilepsy or psychiatric disorders," said Michael I. Miller, a lead investigator on the project. "It will provide a way to share important new discoveries about how changes in brain structures are linked to brain disorders. For the medical imaging world, this system will do what a search engine like Google does when you ask it to look for specific information on the Web."
To read the full story, click here.
The story has also been featured in the following news outlets: Baltimore Sun  |  JHU Hub News  |  HispanicBusiness.com  |  HealthLeadersMedia.com  |  TMCnet.com News  |  CNET News  |  Scope – Published by Stanford Medicine  |  Medical Xpress  |  Johns Hopkins Medicine News  |  Healthcare Informatics  |  Fierce Medical Imaging  |  Healthcare DIVE  |  Newswise  |  OUT-LAW.COM  |  Science Daily  |  The Sleuth Journal  |  in a web video on Mashable.com and also on YouTube.