Suchi Saria among Hopkins Scientists named Sloan Research Fellows
02/16/2018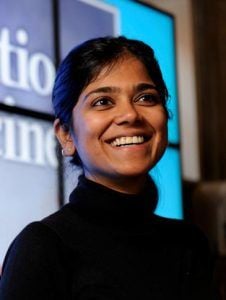 Suchi Saria, ICM core faculty member, is one of four Johns Hopkins faculty to be named Sloan Research Fellows for 2018. Saria who is recognized for creating life-saving computer algorithms that hospital can use to detect and treat sepsis, has a primary appointment in the Department of Computer Science in the Whiting School of Engineering and is also an assistant professor in the Department of Health Policy and Management in the Bloomberg School of Public Health.
Founded in 1955 by the Alfred P. Sloan Foundation, the two-year fellowship recognizes researchers who make significant contributions to their fields early in their careers. Sloan Research Fellows are nominated for the award by their fellow scientists and are known to become leaders in their area of research. Fellows have gone on to win 45 Nobel Prizes and 69 National Medals of Science.
Read more about the Sloan Research Fellows in The Hub.