Advances in personalized medicine highlighted at fourth annual Computational Medicine Night
03/16/2018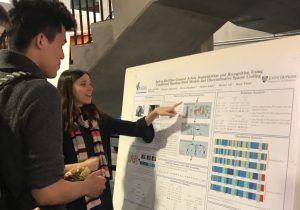 Faculty and students gathered recently for the Institute for Computational Medicine's fourth annual Computational Medicine Night in Hackerman Hall. The event attracted more than 100 undergraduate students interested in learning about ICM's cutting-edge research program and the computational medicine minor offered through the Whiting School of Engineering.
Founded in 2005 as the first research center of its kind, ICM established computational medicine as an emerging discipline devoted to developing quantitative approaches for understanding and treating human disease. Today, ICM is home to 17 core faculty members and nearly 100 students and trainees dedicated to translational research. Through a combination of mathematics, engineering, and computational science, members of ICM build mechanistic models of disease, personalize these models using patient data, and apply them to diagnose and treat individual patients.
"Ten years from now, the role of a physician will be different than it is today," said Raimond Winslow, Raj and Neera Singh Professor of Biomedical Engineering and director of ICM, who opened the night with introductory remarks. "Going forward, the process of diagnosing disease and determining the best patient therapies will be done computationally, and ICM is going to be a part of that."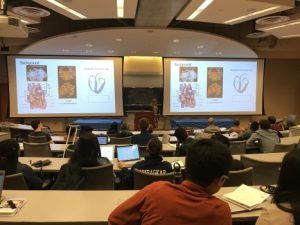 Winslow compared the need for computational models in health care to the process of designing an aircraft. "We don't build a Boeing 747 based off of our intuition," he explained. "We build a Boeing 747 by modeling and simulating every nut and bolt. We need similar models to understand the complex landscapes of health and disease."
Winslow gave students an overview of recent advances in ICM research, including his own work, which harnesses physiological data from patients in critical care units to predict those at risk for developing sepsis.
Other ICM research spans diverse areas of biology, from genomics and molecular biology to tissue physiology and systems pharmacology. For example, Rachel Karchin, ICM core faculty and associate professor of biomedical engineering, uses statistics and machine learning to identify the genes that drive cancer formation and progression. ICM core faculty members Natalia Trayanova, the Murray B. Sachs Professor of Biomedical Engineering, and Patrick Boyle, assistant research professor in biomedical engineering, build computational models that guide new treatment strategies for patients with life-threatening cardiac arrhythmias.
A series of presentations by ICM undergraduates highlighted examples of the center's many student research projects. Presenters included:
Thomas Athey, a fourth-year BME student who is analyzing MRI images to study the shape of the amygdala and hippocampus in both healthy individuals and those with bipolar disorder.
Tiffany Hu, a third-year molecular and cellular biology student who is using image-based cardiac models to reveal the influence of fiber architecture on electrical wave propagation in the human heart.
Anil Palepu, a second-year BME student, and Sharmini Premananthan, a fourth-year neuroscience student, who are developing algorithms to automatically detect bursts of neuronal activity in epilepsy patients, which may indicate the regions of the brain involved during seizures.
During a panel discussion led by Feilim Mac Gabhann, ICM core faculty and associate professor of biomedical engineering, graduate students shared their experiences in the ICM program and offered advice to undergraduates. Topics included tips for building computational skills, selecting a research lab, and maximizing the undergraduate experience.
"I like computational work because there are a lot of hard problems to solve, with a lot of applications that are immediately obvious," said Florence Yellin, a graduate student working in the lab of Rene Vidal, ICM core faculty and professor of biomedical engineering. "If my projects are successful, they will have an impact on health for a lot of people, which is exciting."
The night concluded with a networking session that gave students, faculty, and postdoctoral fellows the opportunity to mingle over food and beverages, explore the ICM labs, and view research posters.
In addition to ICM's research program, Johns Hopkins offers the first educational program in the field of computational medicine, a multidisciplinary undergraduate minor focused on the development and application of computational methods to advance modern medicine.
"Medicine is becoming an engineering discipline, without question," said Winslow. "The Institute for Computational Medicine represents the medicine of tomorrow. The computational medicine minor will position students to be future leaders in this new discipline, both in research and practice."