Alecia Flynn wins 2018 WSE Staff Recognition Award
05/03/2018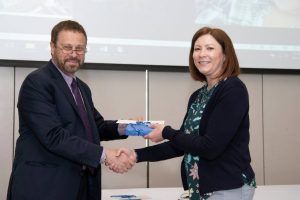 On April 23, Alecia Flynn, ICM's Senior Academic Program Coordinator, was among one of three individuals to receive the 2018 Whiting School of Engineering Staff Recognition Award for excellence. Winners are acknowledged for their outstanding achievement, innovation, productivity, customer service, inspiration, leadership, professionalism and/or initiative.
Alecia joined the Johns Hopkins University in October 2016 as the Institute for Computational Medicine's administrative coordinator. Alecia promptly used her background in curriculum development to polish materials for ICM's then-new undergraduate minor and more effectively communicate the institute's offerings to potential students. In the summer of 2017, ICM promoted Alecia to senior academic program coordinator. With warmth and attention to detail, she administers the institute's minor, summer internship program, and NIH-funded predoctoral training program, as well as seamlessly coordinating our annual retreat and Computational Medicine Night – ICM's showcase event for undergraduates, which doubled in attendance in 2018. Alecia also ensures that the academic and research achievements of all ICM's members are well promoted on our website and by the university.
According to Raimond Winslow, Raj and Neerah Singh Professor of Biomedical Engineering and Director of the ICM, Alecia "owns" the institute's academic mission. "She particularly shines in our recruitment and support of summer interns in computational medicine, managing programs and admissions from Morgan State, Loyola, and UMBC." Associate Professor Feilim Mac Gabhann adds, "This is what Alecia brings to our institute – she is always thinking of ways to improve the way we do things, both in terms of great events and services for our faculty and students, and in terms of the paper and electronic organization of our programs… Our academic programs, seminar series, and events would be much the poorer without her hard work and thoughtful innovation."
ICM is very proud, and fortunate, to have Alecia on our team.