Fifth annual Computational Medicine Night showcases advances in precision care medicine
03/19/2019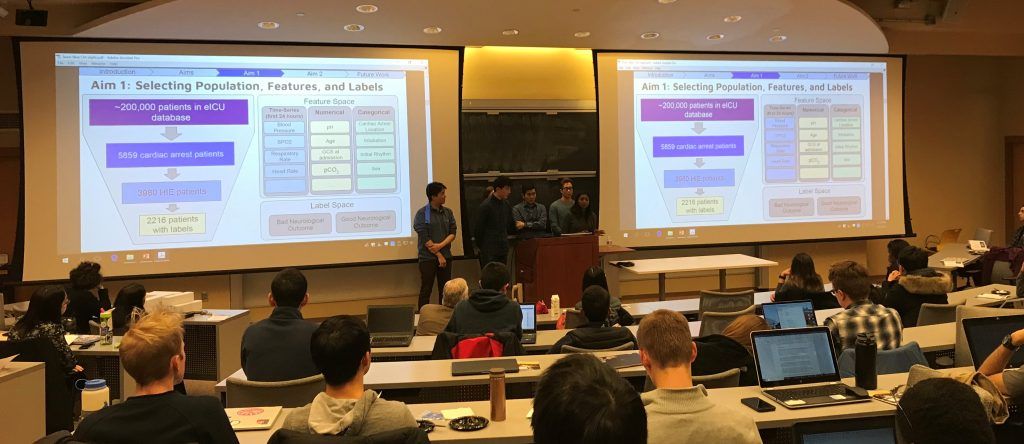 More than 100 faculty, students and clinicians assembled recently in Hackerman Hall for the fifth annual Computational Medicine Night, the Institute for Computational Medicine's signature event. The event drew attendees from the Whiting School of Engineering, the Krieger School of Arts and Sciences, and the School of Medicine to learn about the ICM's translational research and academic programs in computational medicine.
An interdivisional institution that is part Whiting School of Engineering and part School of Medicine, the Institute for Computational Medicine was established in 2005 as the first research center devoted to developing quantitative approaches for understanding and treating human disease. Investigators and students at the ICM apply engineering, computer science, and mathematics to build computer models of disease, personalize these models using patient data, and apply them to diagnose and treat individual patients, often collaborating with clinicians. The ICM's 17 core faculty, 100 students and trainees, and clinical collaborators originate from various departments across Johns Hopkins University and Johns Hopkins Medical Institutions.
In his introductory remarks that kicked off the event, Raimond Winslow, Raj and Neera Singh Professor of Biomedical Engineering and director of the ICM, emphasized the interdisciplinary nature of research that is the core of ICM's mission as well as the significance of computational modeling in the future of medicine.
"Models are necessary to navigate the complex landscape of disease," said Winslow before sharing examples of the ICM's advances in personalized medicine. "Medicine is becoming an engineering discipline. This in turn is creating lots of new opportunities in the area of computational medicine for our students," Winslow stated. He concluded with an explanation of the computational medicine minor program which includes the option to conduct research under their guidance of the ICM's faculty investigators.
Sridevi Sarma, associate professor of biomedical engineering and associate director of the ICM, presented an overview and Q & A session on Precision Care Medicine, a two-semester computational medicine design course offered by the Department of Biomedical Engineering. Co–taught by Sarma and Winslow, Precision Care Medicine is a combined project and lecture course for undergraduate and graduate students that incorporates the paradigm of modeling, personalization, and application. Student research teams work with faculty mentors form the Anesthesiology and Critical Care Medicine (ACCM) Department and their collaborators to develop a plan and apply methods of computational medicine to solve important health care problems.
"This is the first course of its kind that I am aware of that brings together talented engineers to solve a clinical problem critical for precision care. Each team of biomedical engineers meets with their clinical PIs and engineering PIs on a weekly basis – experiencing full immersion of the problem at hand. PCM is not only educating biomedical engineers to tackle real problems but is also forming tighter connections with clinical colleagues at JHU," explained Sarma.
During the evening's Q & A session, a student who is enrolled in Precision Care Medicine revealed that it was the "best course he has ever taken" at JHU.
A series of presentations by students and trainees followed the information sessions, showcasing examples of the ICM's various research projects as well as projects from the Precision Care Medicine course. Presenters included:
Julia Costacurta, a BME junior who is working to improve the sensory experience and user control of prosthetics for upper limb amputees.
Max Lu, a BME senior who is applying machine learning and computer vision techniques to improve the diagnosis of breast cancer.
Qingchu Jin, Hieu Nguyen and Eric Sung, BME PhD students; Hanbiehn Kim, BME Masters student; Sharmila Tamby, CS Masters student; and Tatiana Gelaf Romer, BME junior form Team Blue of the Precision Care Medicine course. They are applying a machine learning model to a large clinical dataset to predict post-Cardiac Arrest neurological recovery.
Elysia Chou and John Lin, BME seniors; Jung Min Lee, BME junior; and Amy He, CS Masters student form Team Maroon of the Precision Care Medicine course. They are creating a computational model to predict insomnia and cognitive impairment from physiological recordings obtained during sleep.
The evening concluded with a poster session where students, faculty and clinicians mingled, networked and explored more examples of computational medicine research.