2019 Discovery Awards: Six ICM faculty awardees
06/26/2019
Thirty-two interdisciplinary faculty teams across twelve Johns Hopkins institutions comprise the recipients of the 2019 Discovery Awards. Five of the winning project teams are led by ICM core faculty and a total of six ICM faculty members are awardees.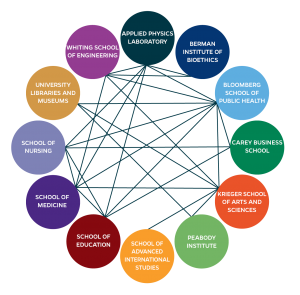 The winning ICM faculty projects are:
A Platform for Brain-scale Imaging and Patterned Optogenetics at Cellular Resolution– Kishore Kuchibhotla (Arts & Sciences), Joshua Vogelstein, (Engineering) & Patricia Janak (Arts & Sciences and Medicine)
Brain Light: Brain Wide Reconstruction of Neuronal Circuitry– Ulrich Mueller (Medicine and Arts & Sciences) & Michael Miller (Engineering)
Deciphering Psychotic Disorders: A Multi-modal, Transdiagnostic Approach– KunYang (Medicine), Akira Sawa (Medicine), Donald Geman (Engineering), Laurent Younes (Engineering) & Andreia Faria (Medicine)
Decoding the Biomechanics and Physics of Cetacean Biosonar– Rajat Mittal (Engineering), Sung Hoon Kang (Engineering), Cynthia Moss (Arts & Sciences), James West (Engineering) & Jung Hee Seo (Engineering)
Novel Techniques for Early Diagnosis and Monitoring of Organ Dysfunction in Critically Ill Children– Melania Bembea (Medicine) & Raimond Winslow (Engineering)
A complete list of 2019 Discovery Awardees can be found here.