Rachel June Smith wins 2020 Young Investigator Award
10/30/2020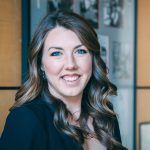 Rachel June Smith, a postdoctoral fellow at the Institute for Computational Medicine, has been awarded a 2020 Young Investigator Award by the American Epilepsy Society for her abstract titled, "Dynamical Systems Theory Applied to Single-Pulse Electrical Stimulation Data to Infer Epileptogenic Networks." Rachel was one of 20 young investigators selected from 1,100 submissions for outstanding achievement in basic, translational, or clinical epilepsy research.
Rachel's research brings together computational modeling, systems theory, and epilepsy medicine. She constructs dynamic models of epileptic networks for the purposes of understanding where seizures start and spread in the brain. Her model predictions can assist neurologists in treating epilepsy patients who undergo surgery to remove epileptogenic brain tissue, thereby increasing the patient's chances of seizure freedom after treatment. 
Rachel conducts her research in the Neuromedical Control Systems Lab led by Sri Sarma, who is the Institute for Computational Medicine's associate director and The Whiting School of Engineering's vice dean of graduate education.