ICM Alum Katherine Hu receives Fulbright Grant
08/27/2021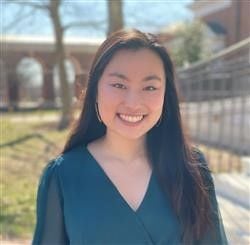 Katherine Hu, BME '20, is among 15 Johns Hopkins University students to receive Fulbright awards in 2021. The English Teaching Assistant Award will allow Hu to teach English in Spain, where she also plans to lead after-school STEM workshops and volunteer at a local hospital.
Named for U.S. Sen. J. William Fulbright, who sponsored legislation creating the prestigious scholarship, the Fulbright U.S. Student Program is the country's largest educational exchange program, offering opportunities for students and young professionals to meet, work, live with, and learn from the people of the host country. The program awards approximately 2,000 grants annually and operates in more than 140 countries.
While a Hopkins undergraduate, Hu served as a research assistant in the lab of Dr. Sridevi Sarma, Associate Director of the Institute for Computational Medicine and Vice Dean for Graduate Education for the Whiting School of Engineering. In the lab, Hu built a correlation analysis pipeline using MATLAB to determine seizure onset zone from non-seizure EEG data, created a pipeline to analyze diffusion tensor imaging data to determine connectivity patterns in epileptic brains, and helped develop and validate a novel sleep scoring algorithm alongside members of the department of neurology. She presented her research at ICM's annual Computational Medicine Night in 2020.